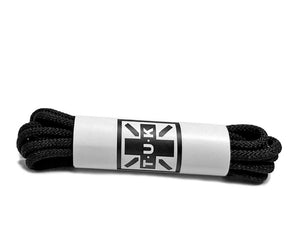 75 CM Black Round Laces
Lace it up your way! Customize your footwear with these nylon black round shoe laces that measures 75 cm long and 4mm wide. These laces are the ideal length for two D-ring eyelet creepers & D-ring VLK creeper sneakers.
Not the shoelaces I expected
I ordered hoping these were the same laces that came with my son's creepers he got in January. While those were thicker and softer, these were thin and had a much more slick texture. Only thing right about them were the length. I reached out to tux and they are helping me get the right ones❤
Perfect!
Perfect length for my 4-D-ring creepers, and seem to hold on very nicely! I had secretly hoped that they would be a bit thicker than they are, but they're the perfect-length round laces I wanted, and at this price point I can't complain.
Exactly what I was looking for
laces
they're shoe laces, how in depth do you want me to go?
---